Phonics
Phonics at St Chad's Primary
Phonics is proven to be the most effective method of teaching children to learn to read as it simplifies the English language down into just 44 sounds. Children therefore 'decode' words by breaking them down into its sounds rather than having to memorise thousands of words individually.
At St Chad's Primary, we teach our children using a rigorous synthetic phonics programme called Floppy's Phonics. Floppy's Phonics is a rigorous programme, easy-to-use and engages children from the outset, enabling them to learn to read quickly. This programme teaches the letter/sound correspondences of the English alphabetic code explicitly and comprehensively for reading and spelling.  It includes the characters of Floppy the dog, Biff, Chip and Kipper, which engages children fully for the phonics teaching & learning, vocabulary enrichment and language comprehension.  We use high quality resources for effective and consistent phonics teaching. Our children engage in fun, multisensory phonics lessons 5 days a week, for at least 30mins from Reception through to KS1. To find out more about the teaching of Floppy Phonics and the resources we use - click this link: Floppy Phonics Teaching Link
To further support your child's learning, they will bring home books and resources to share with you. These may include:
Fully decodable phonics book linked to the sounds/phase they are learning in school.
Floppy Phonics Activity sheet
Say the sounds poster
Grapheme and picture tiles
You and your child will have access to Floppy Phonics Extra Practice Zone.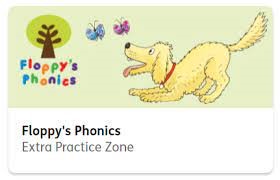 The Extra Practice Zone is an area on Floppy's Phonics Online where your child can practise their phonics skills at home, with the help of an adult. It contains 42 interactive eBooks, each offering a range of activities that will help improve your child's reading skills. Your child may have already practised some of these activities at school, either with the whole class or on their own. Your child's teacher will tell you which eBook your child should access at home and provide login details.
Your child also has access to Oxford Owl E Book Library. It is an e-book reading scheme that your child will use for independent reading at home. Each child has a unique log to access their levelled books. All login details are provided by your child's class teacher.
Glossary of Phonics Vocabulary
Phonics Screening Check
In year 1, children will sit a national Phonics Screening where the children have to read 20 real words and 20 'alien' (pseudo) words. This is carried out in a child-friendly way by the class teacher. At every parents' evening, you will be informed of your child's progress in Phonics and at the end of Year 1 the school report will inform you if they have passed or not. If your child does not pass in Year 1, they will be given additional support throughout Year 2 to enable them to pass the next year.
Useful Videos and Websites
Oxford Owl - Oxford Owl – have over 100 free e-books for children aged 3-11 years old
Phonics Play - A site packed with interactive phonics games and resources to help children to learn to read.
Learn to Read with Phonics - A useful website to help you with pronunciation of sounds used in Phonics